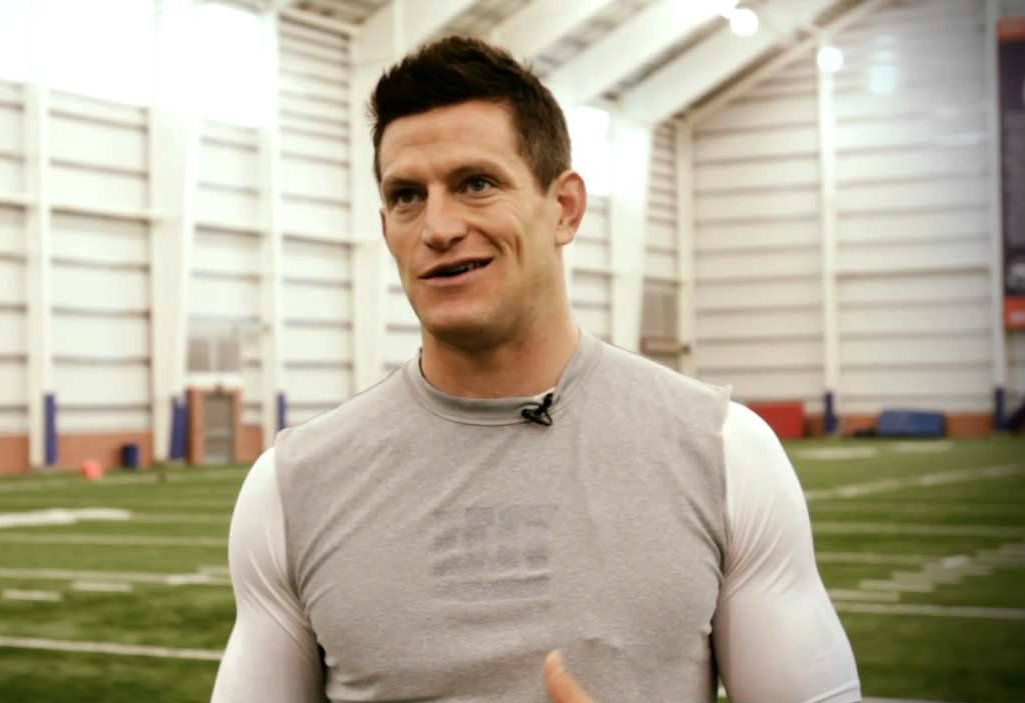 USA Today for The Win – Press Time With Steve Weatherford
POSTED BY: STEVE WEATHERFORD in NEWS
This week I had the incredible honor of visiting with service families at the Picatinny Arsenal Military Base. I was invited out by the Boys and Girls Club of New Jersey, one of the charitable organizations I work very closely with. BGCNJ serves more than 50 kids on this base – and I got to speak and exercise with every one of them! Some of the kids have parents who are currently deployed, so it was really special for me to add a bright moment to their holiday.
Now, for your questions. Here are a few answers from this week's Press Time. You can read more at USA Today.
Why did you decide to get involved with the Boys and Girls Club? What got you in the door and kept you there? - Lee, age 28 & Amanda, age 23
Playing in the NFL has truly been a gift as well as a dream come true. However, I've always made it a point to never forget where I started out. Growing up in Terra Haute, Indiana life wasn't always easy, and I'll admit my family faced struggles from time to time. The Boys and Girls Club near my home town was a second home to me and now I am so thankful that I am in a position to give back to the kids who are involved with the club today. To me, BGCA teaches kids that regardless of where you came from, you should always reach for the stars because the possibilities are endless. I really have a personal connection to this program, so you could say that's what got me here. As far as what has kept me here, I've seen first-hand how this program works and believe that with the right help, BGCA has a chance to continue to change the lives of boys and girls everywhere in a positive way.
What made you decide to get involved in health and fitness? -Chris, age 26
I was one of the smallest, skinniest  kids  when I started high school – and I knew that if I wanted to live my dream, I was going to have to put my heart and soul into developing myself physically. The health part came as a natural extension of that.  I decided I wanted to be the best I could possibly be – and then I went after it! I wish I could tell you there was more of a secret to it than that. But it was just my perseverance and commitment to be the best I could be.. Through eating right and maintaining a strict workout regimen, I've been able to get myself in the best shape I've been in my entire life. Stronger muscles means better output on the field. I'm always looking for ways to add distance and accuracy to my punts, and a lot of that starts in the weight room. Through this, I've become very passionate about my health and workout routine. I feel that without working out and eating right, I wouldn't be where I am today-- not a chance.
Why did you become serious about playing football? - Matthew, age 9
Well, before football, I was a soccer player and once I got older, I got into football as well. Actually, there was one point in high school where I was playing both soccer and football at the same time... talk about a busy schedule! I guess during my senior year, when I was offered football scholarships from big Division I schools was when I knew I had a chance for success with this sport. From there, I really became devoted to football.
What is the best part about playing in the NFL? -Amanda, age 23
When you're growing up and trying to decide on a career, everyone will tell you to do something you love – and something you are naturally good at. For me that was football. But my strength was in kicking so I developed a career as a punter. I've been playing football for years and love every minute of it. For me, it doesn't seem like a career when I strap on the pads every Sunday. It seems like I'm still a kid, just having fun out there, and that's the best part about playing the NFL-- living my dream.